Reviews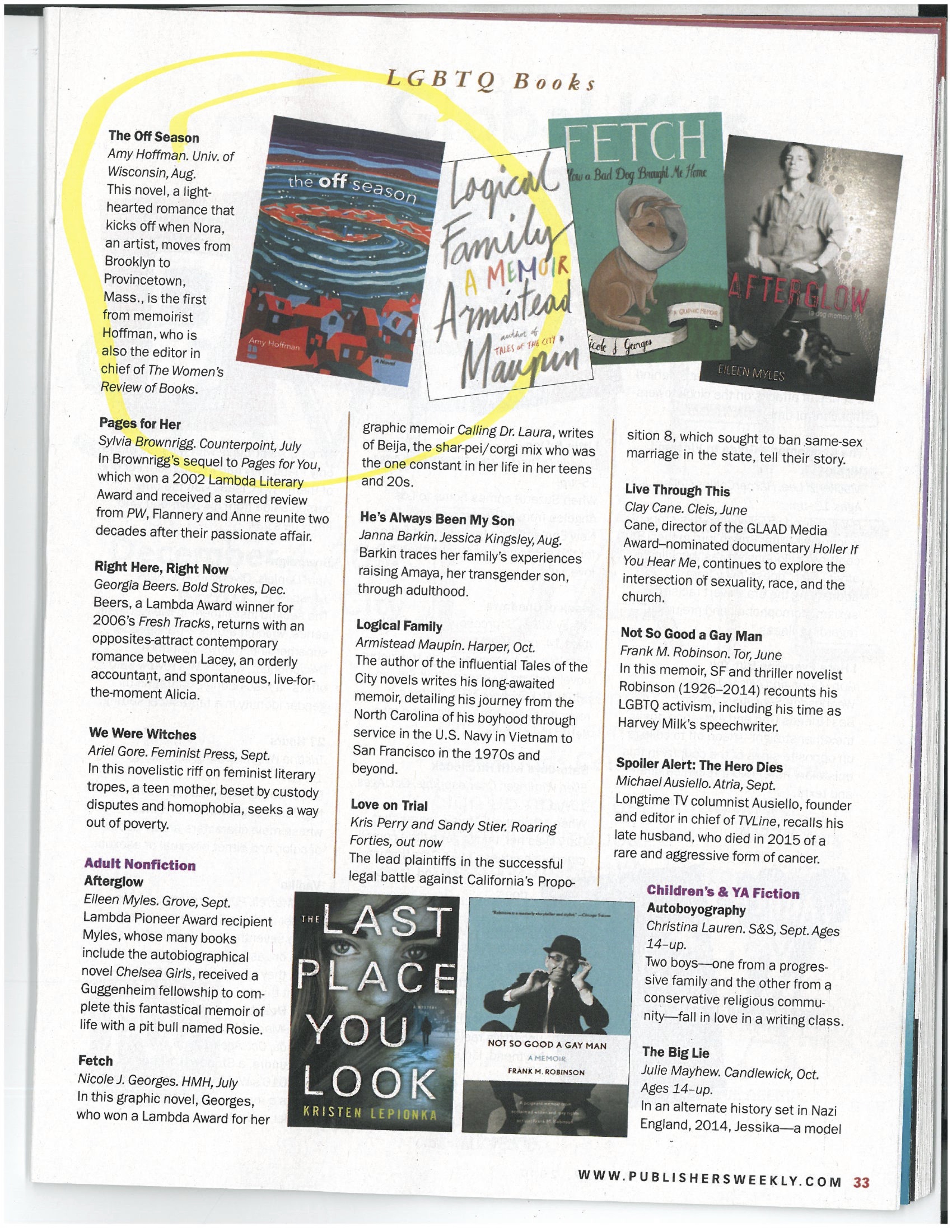 The Off Season is featured in Publishers' Weekly's article "Select Books with LGBTQ Themes for 2017"!

"Amy Hoffman has written a highly readable memoir of a brief but formative moment in time: her four years, from 1978 to 1982, working at Boston's weekly newspaper, Gay Community News.

...There's a little of Hoffman's private life woven through this life of GCN, and her self-doubts about her editorial capabilities. There are lovers and friends, concerts and parties, pre-gentrified Boston, the 1979 gay march on Washington, and her conflicted feelings about socializing and having fun as the only lesbian in large crowds of gay men. A full-page reproduction of an early issue of Bad Attitude (a "sort of porno magazine"), of which Hoffman was co-publisher in the mid-1980's, makes one want to know much more about this phase in her life."



"...Hoffman weaves her personal story in between her professional life at GCN with humor and reflection, and even though it seems impossible to separate from, she discovered herself as she was a part of the committed GCN publication. ... The activism of GCN is one of the most important aspects of Hoffman's story, and I believe is what kept GCN's spirit alive. Hoffman went in-depth about various controversial art and editorial coverage, including GCN being a part of gay history including covering the first ever gay and lesbian march in Washington DC in 1979. ... From my perspective, Hoffman seemed naturally close to gay men throughout her recollection of her experience at GCN."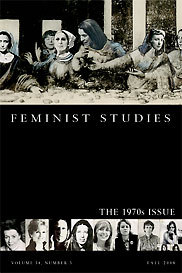 "Hoffman has a special ironic style, which had me laughing out loud, that she employs in talking about the seemingly minute but then giant battles that went on in the GCN and the feminist and left communitiy...". "Hoffman might be nostalgic about the period, but she is not uncritical. ..."

"Gay Community News was actually a physical place you went to," Clinton said. "You worked like crazy. Then you went out, drank cheap wine, ate lasagna and went dancing like crazy. Now we have the Internet and the illusion of community. I read Amy's book missing that time; it had tastes and smells and heat."

"Blending a keen eye and a knowing wit, the memoir is a rare and intimate picture of an era just before AIDS and the activism it unleashed, before widespread consumer technology or public tolerance.

The twin gifts of compassion and concision Hoffman has long displayed as writer and editor help convey the story of her own fight for personal and professional integrity and her coworkers' struggle to avoid hate violence, family ostracism, invisibility, or career pigeonholes. This is no lavender-scented bit of nostalgia. It is among the most original histories of LGBT America. An amazing collection of photos adds humor, depth, and texture to the taut narrative..."


"Hoffman's style is charming. When she arrives at GCN, there's the sense that it's a bit like Dorothy Gale opening that door when she hits Oz. ...

AN ARMY OF EX-LOVERS is a wonderful evocation of a time and a place of a certain part of a generation that, as a dear older friend of mine told me, "got it all." That may only be accurate in his vision, but those who got the movement going in the 1970s literally wrote the script, and Hoffman, in her delightful book, gives us a sense of what it was like to be young in the 70s and doing something daring and something entirely new. I'm so glad Hoffman wrote this book and I'm doubled glad it was published. I don't usually gush, but I just did.

Amy Hoffman's autobiographical history of her years at Boston's Gay Community News (GCN ) is one of the most engaging works of nonfiction recently published. An Army of Ex-Lovers documents the period from 1978-82 when Hoffman was serving as one of the weekly newspaper's editors. This tumultuous period encompasses the flagship era of Gay Liberation; the murder of Harvey Milk; the Anita Bryant crusade; and the beginning of the AIDS crisis. It was also a time of emerging lesbian activism, a subject this lesbian, Bostonian author covers with a wry sense of humor and wonderful candor...

Amy Hoffman worked at GCN from 1978 to 1982. Nearly three decades later she revisits that life-altering experience with humour, grace and hindsight in the just-released An Army of Ex-Lovers: My Life at the Gay Community News.

Hoffman revealed herself as a self-aware and touchingly honest memoirist in her first book, Hospital Time, a chronicle of her tempestuous relationship with GCN's office manager Mike Riegle as he died from AIDS-related complications in the early '90s. She dives deeper into the past in An Army of Ex-Lovers and what surfaces is not only a portrait of a passionate moment in social history but a tender coming of age tale...




"Hoffman is a wickedly funny writer. In sly detail, she interweaves her own gay stor, the marginal characters that came and went at GCN, and her attempts to translate it all to her family.

Most surprisingly, it is an unlikely gay love story, between a Jewish lesbian and a very tall Irish gay man. Their love and friendship were no small feat in a time of lesbian and gay male separation."

Kate CLinton



The Printing Press
Main Review

When 26-year-old Hoffman joined Boston's Gay Community News in 1978, the weekly newspaper had been a radical gay and lesbian forum for five years but was still the only business listed under "gay" in the Boston telelphone book. Undeterred by the staffers' infighting and lack of journalism experience, the gay bashings and murders of several colleagues, the paper's circulation of only about 5,000 copies, and the chronic shortage of funds because GCN's politics scared most potential advertisers, she worked at the paper for nearly four years….Discovering, losing, and then finding love again kept Hoffman at GCN, along with the excitement of creating a common agenda for social change with legions of dykes and faggots, many of whom went on to lead LGBT, AIDS service, and social justice organizations across the country…. Hoffman ranges about freely—portraits of the GCN staff, the fire that destroyed the GCN office shortly after she left the paper…overall her people are potent enough to make her ramblings worth following. … Luckily for the reader it was someone as funny, thoughtful, and forgiving as Hoffman who took the time to look back and recapture so many emblematic moments."

Charlotte Abbott


Out and about

The Boston-based Gay Community News was always a shoestring operation with outsize ambitions. Founded in 1973 - before AIDS and gay weddings - GCN was run by activists who were as interested in making news as they were in covering it.

In "An Army of Ex-Lovers: My Life at the Gay Community News," former GCN editor Amy Hoffman, now editor of the Women's Review of Books, recalls with wit the heady debates that roiled the staff. Although GCN never had a circulation of more than 5,000, it was a vital connection for readers coming out of the closet. In addition, the paper was a training ground for lesbian and gay leaders who, Hoffman writes, "went on to run practically every gay organization in the country."
What readers and reviewers said about
Hospital Time
Named to the 1998 Books for the Teen Age by the Young Adult Services Division of the New York Public Library

Finalist, Gay/Lesbian/Bisexual Book Award
Social Responsibility Roundtable of the American Library Association

Finalist, Judy Grahn Award for Lesbian Nonfiction
Publishing Triangle

"There are no books out there that speak to the experience of those of us who must live with the truth instead of laminating it with some face-saving altruism and heroism. Except for this one. [Hoffman has] perfect pitch on this whole deal. And [she writes] really, really well."
—Anna Quindlen
columnist and author of One True Thing and other works

Hospital Time is necessary, powerful, full of the detail of authentic struggle, and beautifully done. Hoffman is right out there naked in real life with all her convictions and full sense of her community. Her book is a revelation."—Dorothy Allison

"Amy Hoffman details, without flinching, what it feels like to be responsible for a friend who is dying. From the middle of an experience most of us avoid at all costs and against a backdrop of far too many deaths, Hoffman constructs a sharp political memoir about the experience of lesbian and gay families in the time of AIDS. This insightful and disquieting book delivers a moving elegy on the quality of queer friendship, straight culture's abdication on AIDS, the meaning of mourning, and the possibility of redemption."—Urvashi Vaid, from the foreword

"Hospital Time is a brilliantly crafted memoir about the writer's struggle to bear witness to the death of a friend. Hoffman's story, written in short, breathtakingly compressed chapters, chronicles life at the center of the AIDS epidemic: intense, terrifying, simultaneously suffused with meaning and empty. Hoffman avoids any cliche of the noble death, instead offering us a relentless view of her own excruciating moral struggles in the face of her disintegrating family. Hospital Time moves, not in a straight line, but like life does—like AIDS does—unpredictably, unforgivingly: as a series of overlapping losses, each more devastating than the last."—Stephanie Grant, author of The Passion of Alice

"A sober examination of the caregiving role the gay and lesbian community has taken upon itself in response to the AIDS crisis…[Hoffman's] memoir, which reads much like a novel, is built around the illness and death in 1992 of her difficult, brilliant friend, Mike Riegle. . . . Hospital Time is an honest portrait of the complex emotions that come with caring for the terminally ill."
—Publisher's Weekly

"Behind every AIDS statistic we hear on television or read in the newspaper are the uncounted—the friends, co-workers, and family whose lives are irrevocably altered. Hoffman, a writer living in Boston, is one of these people. Her memoir is striking in its direct and often painful portrayal of her experiences as healthcare proxy for Mike Riegle, a gay friend. . . Those who have been touched by AIDS as well as caregivers who struggle with their conflicting feelings should read this work."
—Library Journal